So like most entrepreneurs, I have had to wear multiple hats in my business but the biggest hat I've worn (fashionably might I add) is my role as a curator. As a vintage fashion curator, the objective is to scour, hunt and discover quality gems to present to our clients, however what I learned is that sometimes the gems I find aren't necessarily merch to sell. Sometimes their gems of another kind. Gems that are special to the business as a whole. Here's the tale of one such gem(s) and its effect on our new logo.
During the process of revamping my brand, the time had come for me to consult and verbally express to my brand designer, Tamika/ @lovetlhayden, how I wanted the new logo for PSB to look. Truth is. I had no freaking inkling of a clue of how I wanted the new logo to look lol. I thought I did at one point and I even brought those supposed ideas to her in our meeting however when she actually drafted my ideas and I saw them computerized I hattttteddd them....so we were back at square 1. (Lord bless her heart for having the patience to deal with my indecisiveness lol) In reality I was just literally stumped. I mean I had created tons of mood boards for the new PSB Vintage on Pinterest and I even hand pasted together a few inspiration collages.... Yet and still I really couldn't visualize how I wanted it to look!
However, I was for certain about how I wanted it to feel and the words I wanted the logo to evoke, so I emailed her a list of those few words and told her to work her magic. (Which I should've just let her do in the first place; *flaw alert I'm really working hard to longer micromanaging people that I hire to help me & my business) Anywho, thank God for brand designers. They're really modern day magicians especially mine...because she literally emailed me back that ether I'm talking pure fire! It was so many gooood options presented that I really couldn't choose just one. Did I mention already how I'm a bit indecisive? Lol (I blame it on my libra-scorpio cuspian birthday, my intellectual libra side is always at odd with my emotional Scorpio side).
I knew I had to choose the best one to properly represent the brand. So I decided to unplug for a few hrs and come back to the task. While breaking I'm scrolling thru my Tumblr feed and that's when I see it. The gem. The image that inspired our logo. It was of the stylishly glamorous 1930s vixen Miss Domonique La Rue, aka Jasmine Guy's character in 1989's Harlem Nights. The image is soooo Old Hollywood Glam, so Va Va Chíc, so classic and feminine. Which happened to be same exact words I told my brand designer I wanted my logo to evoke ! Ding Ding! So I plug back in and review the font options she sent me and there it was, the beautiful swaying font that would become part of our logo. (Clearly my logo designer had nailed it before I even nailed it myself, told you...magician lol) So I correspond with her about my font choice and how Domonique La Rue/ Jasmine Guy is the logo inspo and a few days later I was sent our sub marks which I loved immediately.
Of course the budding fashion historian in me wouldn't let that be the end to this gem story. I just had to hunt for La Rue's character inspiration so I immediately begin searching for images with the same aesthetic but that were actually from the 1930s and those that I found were simply fabulous. Vintage Vixens Miss Josephine Baker & Miss Jean Harlow instantly fed my fashion soul and ultimately fulfilled my hunt for my branding inspiration. Honey both off these ladies are serving va va chic on a platter. #StyleGoals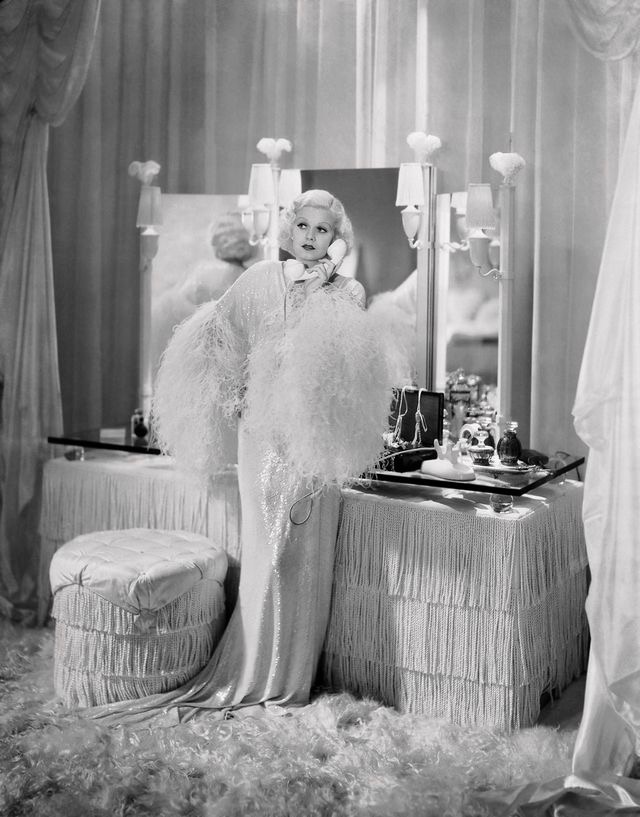 Ostrich feathers....silk and shimmering fabrics...tufted and fringed furniture #swoon. Just classic feminine glamour. Which is what I hope my customers feel when in contact with PSB Vintage and ultimately in the future, its the aesthetic I want to convey through our physical space whether it be a studio or storefront. Truly style that inspires I don't know what is.
So there it is folks the case of the new logo was solved.Thanks to these images, operation revamp PSB was achieved........ I came across some true gems indeed. *tips my fashion curating hat
So comment below and tell me what you think of our new look!
xoxo, JassyVintageGeek
*Find more vintage style images that inspire by following our pinterest board, #StyleThatInspires